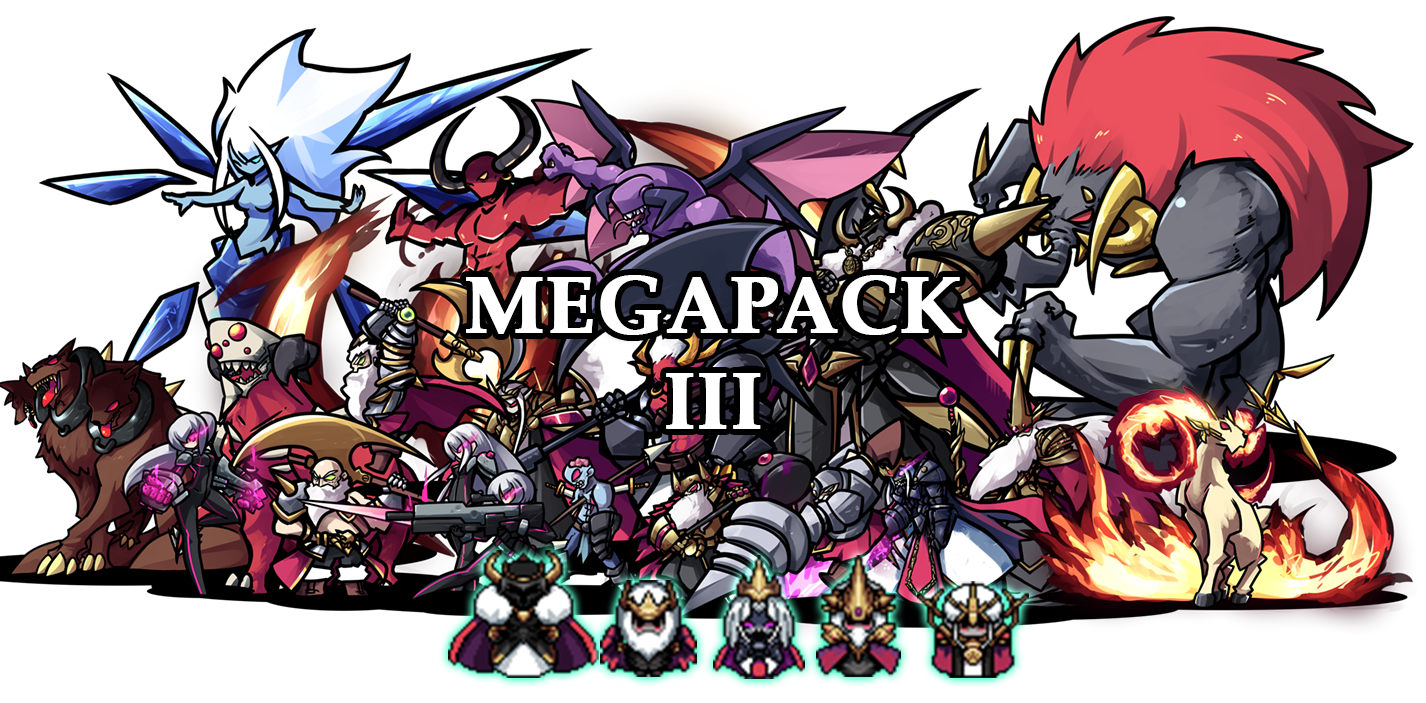 Librarium Megapack III
A downloadable asset pack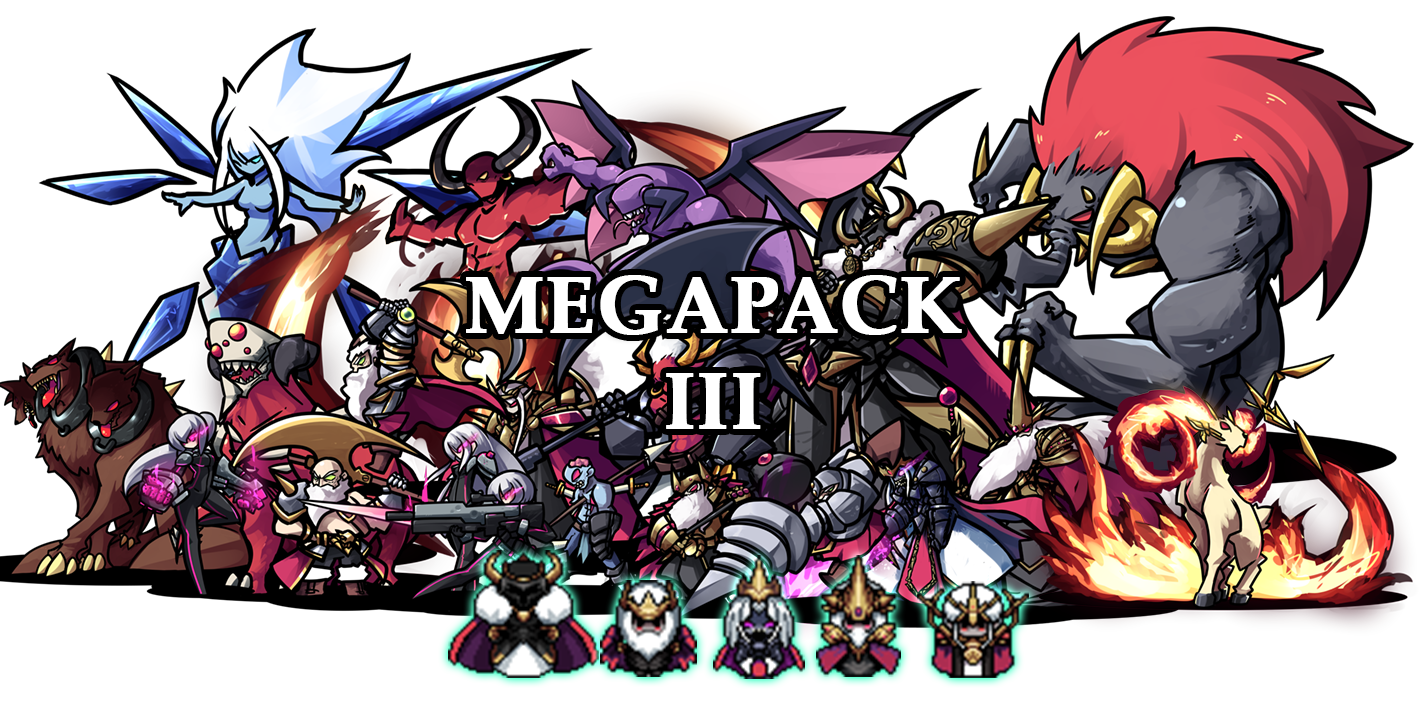 Today Librarium releases its third megapack, featuring both the update of some older creatures, as well as brand new ones! It also features frontview map sprites for some of the featured releases!
Optimized for RPG MAKER MV!
20 sideview and mirrored frontview battlers!
5 front-view map sprites for select designs!
Original release :
http://www.akashics.moe/monster-packs/librarium-megapack-iii/
Terms of use:

http://www.akashics.moe/terms-of-use/
More resources:
http://www.akashics.moe/
Every plugin you might ever need:
http://yanfly.moe/
Help support more creations like this!
https://www.patreon.com/aekashics?ty=h
-Aekashics
Special Thanks:
Yanfly!
All my wonderful Patrons who made this pack possible!
Susan, Swift Illusion, Anaku Senko, Antonio Silvestre, Chris Blair, Luka, Matthew Herz, Daryl Crawford, Matthew Colwin, DEdwards, Jason Martin, Eric Johnston, Eric, John Bruce, Michael Posada, zimzim, Devon Wells, Sparkbomber, Perseonn, Happy, Sean Graham, Darkstarmatryx, Kneeshaw, Rachel, Pavilion5097, Wyeth Hall,Dylan Berndt, Crocodile Dante, Newnikko, Wayne Erik Jarvis, Jeff Staley, Christopher Street, Justice667, Njali, Meteodros, Arif Idrus, Limalisha, Henry The Mighty, David Woodley,Donstarlancer, Ramez, Watermark RPG, Rayhaku808,Mario Raul, Goldschuss, Andre Lewis, Scicheng Jiang, Driftwood Gaming, Jayson Mckay, Cats777, Gabriel Marzagalli, Vincent CALAY-ROCHE, Stephen Jacobs, Haevacht, Gonzalo Serrano, ChrAndGow, Damon Marjanovich, Andy Lin, Clint Russell, Anthony, Marr,
Alexis Comparato, Tvrtko Validzic, Ian Gates, Michael Noles, David Maestre, Anthony Floyd, RiceMan, Sarah Raposo, R.A.M, Matthew Bonafilia, Studio Blue, Paul Smith, Myriam Rutland, Haze Henry, Stephen, Chris Boyd, Sarah, Atoris, Hay Hawl, Dolorre, Joshua Otera, Troy Helms, Ian Ynda, Sen,
Burning Gear Empire, Val Agiel, Jonathan Boggs, Nathan Stangeland, David Heyes, Ashley Leong, Twilight Faze, Crimson Dragon, BitPokit, Denki,
Morekung, Billjessm, Spirium, Raven Burns, Tyler W, Kyle T, The Legendary (Sarcastic) Overlord Author, Evan Lindquist, Lonnes, Vella-Croft, Delacannon, T. Williams, Karaely, Crazy Cactus, Marius L., Pyroflo S., Jason R., Paul S., Devin Gabriel, Mike P., Nathaniel A., Melissa D., Alexander M. , Eric J., Geoff W. , Rusty Gears, Jordin Y., Danie, Skyshadow235, IamPortugues, Luc-Stamrah, Ben E., Carole O., Stuart, Steve W.,Betrand A., Matt H., Evan L., Kyle M., Günter P., Aegis, Nemuruibai, Asuran Fish, AstralTempest, JustinCD, Jack B., Ryan Ferguson , Daniel Kelly, Ahmad Baidoun, Joshua Withney ,Alejandro SQ, André P., Alex C., Ainars T., Kazo., Ben English, Styx92, Shaun S., Jonathon C., Michael F., Sam S., RK Hudson, Deivid H., Kurotora, Antonin L., Nigel G., David F., Chris G., John B., T.S, Alex M., Graceless Gaming, David A., Calvynne, Indoor Minotaur, Theolas, Sahetiv, James M, Haley L., Jose U., Howard T., Geoffrey A., Velsharoon, Manuel E., Phil G., Kya Phoenix, Rose D., Mara V., Isaiah C., Soren C.,Ethan D., Aivis Seibe, Tetsujin, Bryan R.,Yukiji A., Oxem, William J.
Install instructions
Extract and import into your MV projects!
Download
Download
Aekashics Librarium - Megapack III.zip
4 MB