KemonoSD Vol.3 Character Pack!
A downloadable asset pack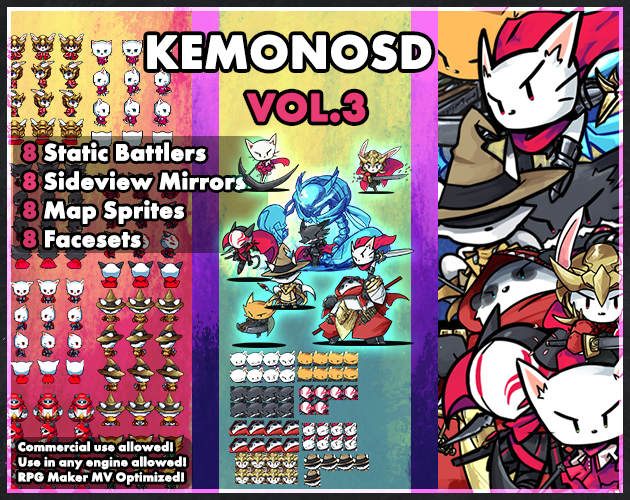 Hello!
Super excited to present the third entry in the KemonoSD character pack series !
Volume 1 focused around the foundations!
Volume 2 focused around key npcs commonly needed to truly get your adventures rolling!
Volume 3 is all about heroes and playable characters commonly seen in RPG settings!
Characters Featured:

Knight
Scythe Master
Arcane Summoner + Bonus Battler without the blue summoned creature!
Mage
Ranger
Samurai
Monk
Assassin
Thanks for supporting Volume.1 & 2 and making Vol.3 possible!
Looking forward to future expansions to these sets! Got any ideas or suggestions for future KemonoSD expansions? Let me know!
This pack is optimized for RPGMaker MV but you can freely use it in any other game engine, though you may need to reformat the assets to fit other standards!
You can also choose to obtain a version including the full resolution PSDs to the battlers!
Further expand your game with the freely available and weekly updated Librarium battler assets! http://www.akashics.moe/
Don't forget to check out Volume 1 and volume 2 if you haven't, as this pack is an expansion to it!
-Ækashics ヾ(o✪‿✪o)シ
Purchase
In order to download this asset pack you must purchase it at or above the minimum price of $5 USD. You will get access to the following files:
KemonoSD Vol3 + Battler Full Resolution PSDs.zip
8 MB
if you pay $10 USD or more
Comments
Log in with itch.io to leave a comment.
Does it come with sideview battlers?
Hello Sham!
It does not come with them, but with the inclusion of the pixbattler asset series It is within my plans to upgrade these products with them!
I purchased the three volumes and am infatuated with each and every one of them. The characters are a perfect compliment to your enemy-focused librarium. My only wish is TVD sprites to go with them.
Looking forward to any future expansions to these high-quality and, quite frankly, adorable characters. Fantastic work!
Thanks a lot for your kind words and support!
I would like to ask what TVD sprites are so that I can have the information wehn the time comes to release a new KemonoSD pack!
You have more than earned the support!
TVD Sprites are the damage sprites for characters. Top View Damage I think it must stand for. They are three frames that show the character falling down. I made a random character in the generator to better show you: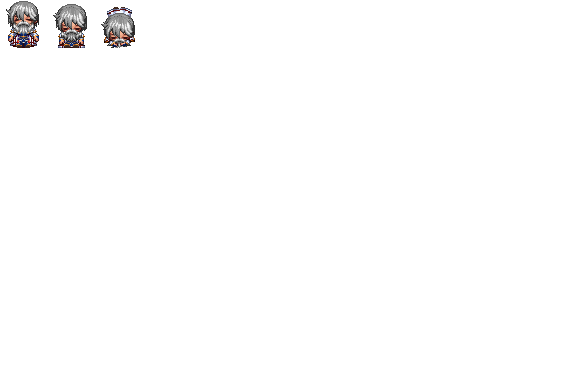 hey Ækashics i used these assets for a 4th wall breaking rpg on my game jolt page (yes i did purchase them and i made a smart mouthed hero character named clives from the SDHero character) you are amazing and me and my discord group wishes to thank you for all your hard work!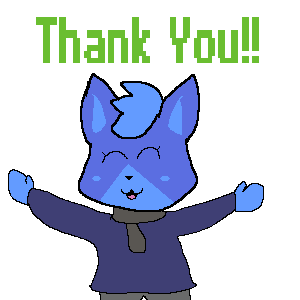 haha thanks a lot! Happy to hear you found these releases useful!
I look forward to expanding this series of characters, Thank you for taking the time to reach out!
may be a while since we're trying to figure out a proper story, but we're getting something together :D