Pixbattlers - Adventurer Stan
A downloadable asset pack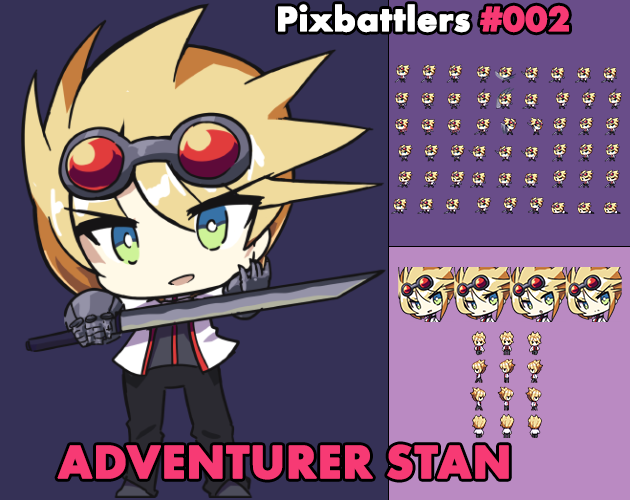 Pixbattlers is a new series of RPG themed character assets featuring an animated SV sheet, 4-dir map sprite, Full body Portrait and 4-Expression faceset, oriented towards providing alternative sets of characters to explore your game ideas with and fully in tune with Librarium's visual style!
RPG Maker MZ Optimized !
RPG Maker MV Compatible!
Non-engine restricted, bring these characters to your engine of choice!
Growing and on-going!
Fully visually compatible with thousands of Librarium Assets!
Today we see the release for Adventurer Stan!
Gifs & Screenshots feature an RPG Maker MZ Implementation powered with Battle Core Visustella MZ action sequences!

Adventurer Stan is a free release!
Download it today!
Download
Click download now to get access to the following files:
Pixbattlers - Hero Stan.zip
182 kB
Comments
Log in with itch.io to leave a comment.
thief Sibyl ,Archer Lan,Brawler Hina , Knight Roz all 4 for $10?? plz
Hello , can i use this asset with any engine , or is it only for RPG Maker ?
As with all Librarium assets, they are not restricted to RPG Maker usage, you can use them in your engine of choice!
Ok thanks , really nice assets btw !
hey can i get a deal i want to buy Pixbattlers but i dont have enough money to buy all of them, can you give me a discount for all . maybe 10$ for all 4 thankyou