Librarium Animated - Titanoboa
A downloadable asset pack
Hello Everyone, Aekashics here!
Looking for animated battlers to spice up your projects?
Need a huge Library of visually compatible assets for an upcoming Jam or project?
Need a huge array of creatures and characters with matching 4-direction map sprites?
Need these assets to not be restricted to an specific engine or format?
Librarium is the Answer for you!

Today we see the complete release for Titanoboa!
Librarium Complete releases feature all the associated dev assets for this release matching the Dragon Tier Patreon rewards!

This complete release features:
4-Direction Map Sprite for the Featured Design
Dragonbones Skeletal animated battler( 3 Attack Animations, Taking Damage and Idle) & Static Battler Exports!
Animation source files including the .Spine and .Dragonbones source projects so you can easily modify the rig and create your own animations!
Full Resolution Sliced up PSD file, great fo bringing the design to other formats such as cards, board games and more!
Full resolution Bust Portrait and crop!


Map Sprites to easily insert these designs into your stories!

(Pixbattler Hilda map sprite shown here only for scale comparison purpose, it is not included in this release!)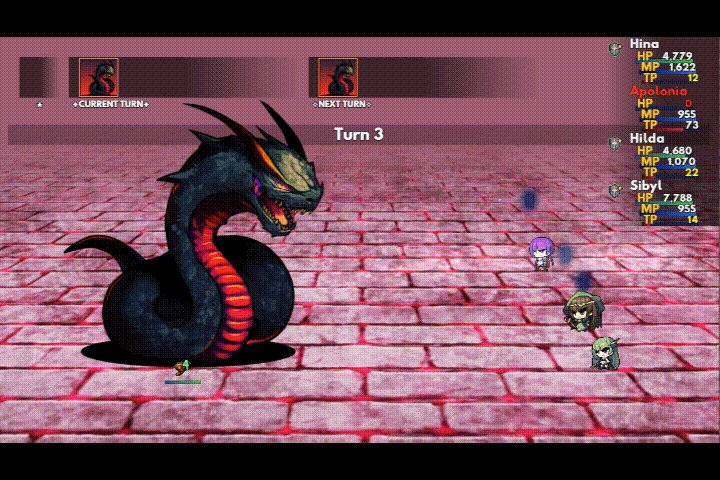 Go above and beyond in battle with all the Attack Motion tools within the battler to create visually entertaining boss battles
Unleash the full potential of Librarium Skeletal Animated Battlers by taking advantage of the available attack motions and easily create visually appealing battles!
Hero Side Characters Feature assets from the Pixbattler series!

What is the Dragonbones Animated Battler format?
Let's allow our friends over at VisuStellaMZ to explain this powerful tool!
http://www.yanfly.moe/wiki/Dragonbones_Union_VisuStella_MZ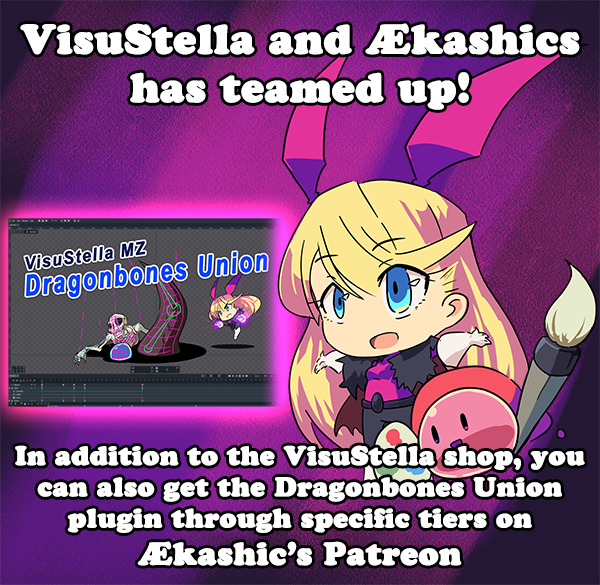 Bring this creature to your projects today!

Remeber, Librarium Battlers are:
Available to be used in any game engine, medium or format!
Available for usage in commercial projects without the need to pay extra royalties or hidden fees!
Fully visually compatible with Librarium's asset collection which features over 1,600 creature designs!
Full Terms of use available here: http://www.akashics.moe/terms-of-use/ !
Thanks for your support!

Interested in some Major Savings?
Join us on Patreon today and access this release along all the releases for the running month (AND their reward sets including everything you see on this complete release) at the $5 USD per update cycle Dragon tier!
As we have a total of Two update cycles every month, featuring a total of 16 new Creature designs,
That is only $1.60 per Complete release a month!
$1 pledge tier patrons and above patrons can also access the Static battlers and front view map sprite for this and all previous static and animated releases through the batch Libraries found here! https://www.patreon.com/posts/librarium-batch-32517612
Save over 80% a month, power up your projects with a constant supply of characters and monsters, suggest your own monster ideas to be materialized and access even more assets and benefits by joining us today!

Missed the running month for this release and joined at a later date? Not a fan of patreon?
No problem! You will be able to find this release along many others compiled in the Bi-monthly update cycle sets such as this one , also with a savings price ! Check out my main profile here on itch to find them! and don't forget to check out the Yearly compilations as well!
Thank you for your interest!

Download it Today!

Purchase
In order to download this asset pack you must purchase it at or above the minimum price of $5 USD. You will get access to the following files:
Aekashics Librarium - Titanoboa Dragon DL.zip
215 MB
Comments
Log in with itch.io to leave a comment.
Two questions. 1.Can I use your assets in another engine other than RPG MAKER? 2. Do you sell particle effects?
Hello!
To answer your questions
1.Yes! Librarium assets are not restricted to any specific engine, game or medium!
2.Nope, but I use and suggest checking out https://manugamingcreations.itch.io/ for VFX needs!
Let me know if you have more questions :)
Would you consider quitting the animation only collection, because the other content is not what I urgently need
How to obtain the relevant copyright license documents?
如果你是中国人,我希望我们能用中文交流。 因为我想批量购买和使用您的动画。 我不明白与您之前回复我的奖励相关的内容。
我找不到您的电子邮件地址。 我的电子邮件地址 8930419@qq.com
你是中国人吗?
Are you a Chinese?
我购买过你2017年合集。
I bought your 2017 collection.
hello! I am not Chinese, but I can still answer your question!
what's the issue you are having?
1.Will there be an animation-only collection? Because the other content is not what I need.
2.How to obtain the relevant copyright license documents?